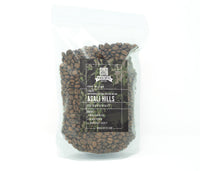 Kenya - Asali Hills Estate - Direct Trade - Washed
Origin: Kenya, Kimilili, Mt. Elgon
Farmers: Chapurukha Kusimba and Dan Melone 
Varietal: Ruiru and Batian
Process: Washed
Tasting Notes: 
Dark Chocolate
Pepper 
Grapefruit Acidity 
We are proud to bring back the Asali Hills Estate. Asali Hills is environmental, cultural and coffee success story that has a deep connection to Illinois. Chap Kusimba, an esteemed archaeology professor grew up on a coffee farm and always longed to have a coffee farm of his own. In 2004, Chap and his wife purchased a deforested 125 acre plot of land near Chap's native Kimilili near Mt. Elgon.  Chap meticulously studied the land, repopulating the landscape with native trees and constructing an estate house integrated into a prehistoric cave system in the rocky hills.  We were introduced to Chap through an archaeological colleague of Chap's, Dan Melone, a Chicago native who now resides in Vernon Hills. Dan brought Hansa co-owner Tom Maegdlin a sample from the farm in 2018. Blown away by the potential of the coffee, Tom, Dan and Chap got together via Skype. Tom was so inspired by Chap's story that Tom volunteered to work with Dan and Chap on their Board of Directors.  The partnership between Hansa Coffee and Asali Hills is known as "The Kenya Coffee Project".  The long-term goal of the project is to create a state of the art, sustainable community of coffee growers in that region that emphasizes quality to market the world-class coffee directly to European and American consumers. This year, we are paying almost double the market rate of $5 per pound directly to Asali Hills. .
 This coffee wasn't screened in the traditional manner, allowing for a high concentration of peaberry which creates and amazing syrupy body that we absolutely can not get enough of. 
You can further support the Kenya Coffee Project by buying one of our shirts
HERE
.
*Our preferred brewing method for this coffee is Chemex with a 1:12.5 coffee to water ratio