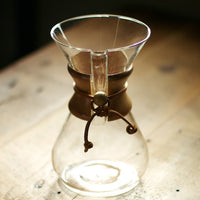 Chemex (8 Cup) ONLY AVAILABLE IN SHOP!
ONLY AVAILABLE IN SHOP! BUY ONE AT ANY OF OUR THREE LOCATIONS
The CHEMEX® pour over has become a treasured brewing option for coffee enthusiasts. It's beautiful design will easily decorate any kitchen countertop but more importantly it makes any amazing cup of coffee. The 8-cup Chemex is perfect for brewing coffee to share with friends. The extraction yields a very smooth, clean cup of coffee.